A second post in one day. Blame Blogger. The earlier bloated post was supposed to go on Thursday. Busy Friday and rest of the weekend here. More later.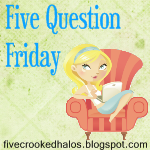 1. Tube socks, calf socks, crew, ankle, none?
Being in Southern California I am about 90% flip flops or barefoot (kettlebells). If I wear shoes I go for ankle socks from Costco.
2. Was your child's (children's) name a mutual decision or was it a debate?
I prefer traditional boy names but most of the good ones are being taken by girls, boo. With #1 it was a debate and we went with the second choice because some family member might have disliked the first choice. With kid #1 we mutually chose the name (from a list of choices) as I was being wheeled into the c-section room.
3. What is your favorite type of weather?
Sunny, warm but not too hot, low humidity, a few clouds in the sky and a occasionally slight breeze. Like today here.
4. If left to your own devices, what time would you wake up every day?
I am at the mercy of my kids. Today it was 5:30am, yesterday 7:20am. I think 7am is probably a good time for me. I go to bed late. I like one day to sleep in to recharge. It rarely happens. I might change my whole routine in June and workout in the early am again. We will see.
5. Have you bought your cemetery plots yet?
Not even a remote thought in my mind. Besides I am pretty sure we both want to be cremated so, no need.